Today's world has seen a significant push towards enabling smart technology in every aspect of our lives. But where is the line drawn? Can we introduce smart solutions into our work environments to improve productivity and collaboration without sacrificing the privacy and well-being of the employees?
In this article, we'll talk about the following:
Why should businesses integrate smart technology into their office space?
What are the benefits of smart technology?
Why is talking about the employee experience important?
How do you achieve a hybrid workplace powered by smart technology?
What are the benefits of smart technology in the workplace?
Create a hybrid workplace for online and in-person collaboration.

Offer access to data and facilities while maintaining security.

Provide personalised employee experiences that help employees collaborate effectively across multiple locations.

Streamline processes

Improve efficiency by eliminating wasted time spent on repetitive tasks or waiting for information from other departments.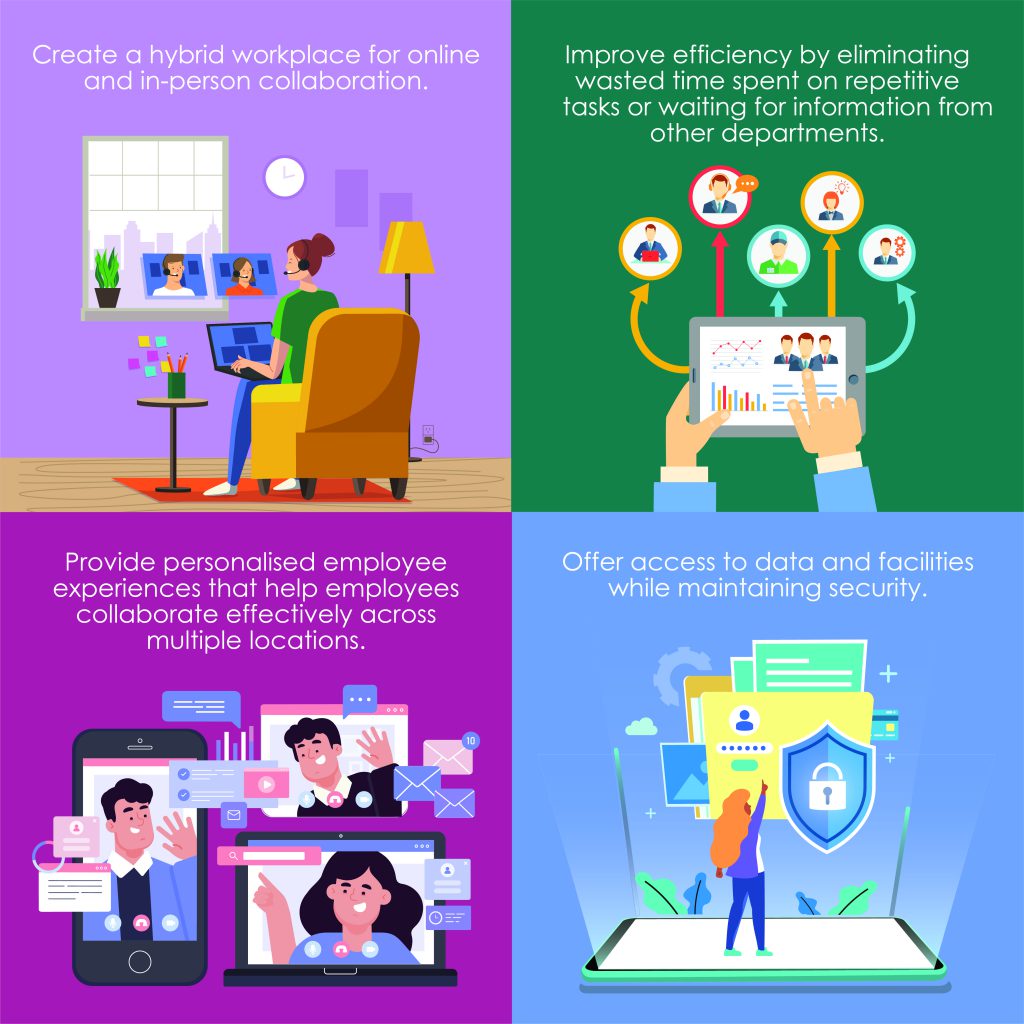 Smart technology means personalised employee experiences.
Understanding your employees' wants and needs is important to create an office environment that works for your employees and generates satisfaction. 
Most people want to feel valued, safe at work, and empowered through their contributions. Smart technology can be an answer for both of these things. Using smart technology or sensors is a great way to get personalised data about your office space, which can help you make informed decisions about the workspace in general or individuals specifically. 
ProSpace desk booking, for example, collects data on how often desks are used so you can allocate them more efficiently when needed. Sensors installed under desks also help give facilities managers an understanding of how the space is being used and the environment it is currently in. To put it simply, smart technology provides safe and secure access to facilities and data. As your staff works from home or in remote offices, it's important to ensure that your network is protected even when you can't be on location.
Smart technology helps bridge the gap between the physical and digital worlds by providing secure access to both. Since many of us are working from home these days, smart technology has become essential for keeping our businesses running smoothly. From opening doors with a smartphone app to unlocking a computer screen by looking at it with Face ID, there are countless ways for smart technology to make our lives easier — especially when it comes time for work!
Smart technology can help integrate the traditional office with remote work for better collaboration, productivity, and secure data access for employees.
Setting up a smart office gives your remote employees a better experience, resulting in better retention and more productivity.
But there are further benefits for the people who come into the office. A great example is in a coworking space—if you're an entrepreneur or even someone working on their side hustle during evenings and weekends—a smart space can be helpful to you. The best part is that you don't need to buy all the new equipment they use at work: You can simply bring your device. And it works with any mobile device or laptop, whether it's Android or iOS; you don't have to worry about what platform your employees are using.
Create a hybrid workplace for content and in-person collaboration
It's important to remember that the hybrid workplace is a modern concept that can be aided by technology. It is powered by and built upon technology. Without smart technology, the hybrid workplace would be an office with fewer people. With technology, however, a hybrid workplace can combine remote work productivity with the creativity of in-person collaboration—two forces that cannot be replicated or replaced in a traditional office setting.
In Steve Ong's, ProSpace CEO and co-founder, recent podcast interview with BFM 89.8, he stated "This is why we normally deploy what we call workplace analytics, whereby we deploy our IoT solutions to understand space usage. So from there, the management will then be able to understand the optimum level of collaboration within that space. And this is important because when we talk about space design, it's always based on how the employee behaves and uses that space."
The goal for any company looking to shift from a traditional office model to a hybrid work model should be clear: enabling their employees to collaborate equally well whether they're working from home or at the office. 
The most powerful way to achieve this goal? Smart technology supports communication and collaboration and allows content sharing without sacrificing productivity in either scenario. When you have access to this kind of smart technology, you don't need to choose between one type of workspace over another—you can get what you want out of both with ease.
Conclusion
Overall, smart technology can be integrated into the workplace in various ways, and it's not an experience that fades once the novelty wears off. Instead, it will add functionality to your workspace while making employees more productive, motivated and engaged. In some instances, it can even reduce costs while increasing overall productivity, making business sense out of a technological shift. We're only getting started with augmented reality, virtual reality, and other forms of smart technology that are bound to improve corporate spaces in the future.