Help an employee, staff, or visitors get from one place to another with the most efficient way of doing so.
In this article, we'll talk about:
What is digital wayfinding?
What are the industries that use wayfinding?
The benefits of digital wayfinding or kiosks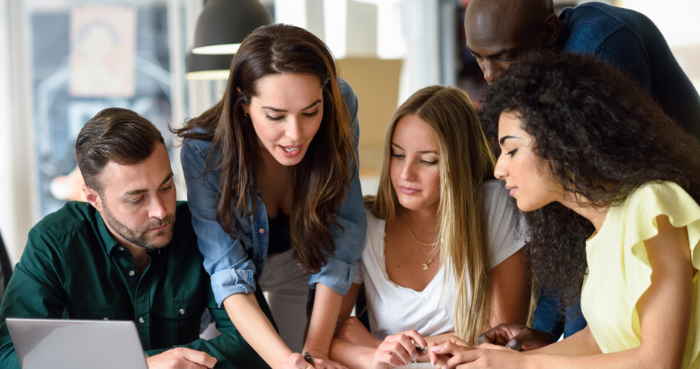 Many enterprises these days, no matter what shape or size, are taking advantage of engaging in digital wayfinding and saying goodbye to printed posters or signages. It reduces costs, but it can also serve as a way to boost productivity and community in the workplace.
Digital wayfinding can assist employees and visitors in locating colleagues, rooms, and desks. It ensures that everybody can easily find their way within various areas in the workplace without spending too much time walking around or disrupting anyone's work.
ProSpace's digital wayfinding utilizes displays such as a large touchscreen to showcase information to anyone and everyone. It can have information such as floor maps and newsfeeds, and employees can also use it to reserve their desk or meeting room easily.
What are the industries that use wayfinding?
Digital wayfinding is the perfect way to free up staff from giving directions all day long. It helps people search areas at their own pace and provides equal access to information regardless of their disabilities. Digital wayfinding offers so many benefits, which these industries are finding hard to ignore.
Airports: They are known to be complicated to navigate with so many access points. With digital wayfinding, people can find their way to their boarding gate, resulting in fewer missed flights.
Shopping Malls: Large establishments such as shopping malls can easily confuse people. Whether looking for a restaurant or locating stores or services, digital wayfinding kiosks can help people familiarize themselves with the mall layout and find what they are looking for quickly. It helps them avoid getting lost or having the need to ask someone for directions.
Hospitals: Digital wayfinding proves very beneficial and offers great convenience to patients, caregivers and visitors. Anyone who might need urgent medical assistance won't experience the inconvenience of getting lost and will find the right people or area that can cater to their condition or situation.
Corporate offices: Employees and visitors can find the correct meeting room, offices, and workstations with the help of a digital wayfinding kiosk. Companies covering different floors or are multi-building employs wayfinding technology to help various people navigate workplace areas easily.
What are the benefits of digital wayfinding?
Digital wayfinding enables much more than point-to-point directions. It is also considered to be a directory and helps people do multiple search options such as meeting rooms, workstations, exits, and other amenities. Digital wayfinding offers a workplace so much more than that, though.
✅ It creates an efficient and organized workplace that utilizes less workforce. It encourages your staff to focus on their tasks and give priority to individuals who need in-depth help.
✅ Invaluable information such as office, meeting rooms, and desk locations are hard to miss with the use of digital wayfinding due to its real-time capability.
✅ Digital wayfinding is easy to use and is accessible to employees and guests; they won't experience the hassle of finding a concierge or waiting for a customer service representative to assist them.
✅ It offers flexibility to employees. For example, they can view the occupancy status of a meeting room or desk and even reserve either on the spot.
✅ Wayfinding kiosks can reinforce your brand. In addition, businesses can create a positive impression to both employees and visitors by showcasing a modern and forward-thinking approach to wayfinding.
✅ Helps you reduce paper costs and time used to create and put up signages around the workplace. It is a great way to free up staff and let them focus more on productive tasks.