By recognizing the pandemic's impact, you as the business leader can make your workforce's mental well-being a priority.
If there's one thing that the pandemic has taught us, it's to ensure and promote safety in the workplace at all times. As businesses start to open their offices and employees gear up for their return to the workplace, creating a safe work environment should be every business leader's top priority.
Do you want your team back together again in one place? Then it would help if you adopted a sustainable and easy-to-follow "Return to the workplace" strategy. Getting everybody back in the office is no easy feat. It isn't as easy as announcing to everyone that it is business as usual. Aside from altering your workplace, several changes may need to be implemented for an extended period, even with readily available vaccines.
Face the challenges in your workplace with these six strong and practical steps to create a safe workplace for everybody.
1. Initiate Communication With Employees
The best way to start a return to work strategy is to inform everyone that you are doing one.
According to the survey titled 'Work from Home: Effect on Employee's Productivity, over 88 percent of employees favor working from home. That is why it's better to hear their concerns, frustrations, and issues even before you call everyone back. This will help design a well-planned back-to-work strategy.
2. Reach Out to Employees
Since guidelines and policies change rapidly, reaching out to employees is essential if they work at home and on a different shift. Schedule your updates regularly to all employees to allow you to communicate at a consistent pace across your entire workforce. Keeping them up-to-date on the latest news on COVD-19 will help emphasize the seriousness of the situation and tell your employees that you care about their well-being.
3. Reinforce Safety Guidelines
Encourage employees to comply with the standard guidelines for COVID-19. By sending constant updates about prevention efforts, employees will practice the prevention guideline even when they are outside of the workplace. It is also best to reinforce the best practice of staying healthy during the outbreak. Creating digital signages such as videos will help ensure that your employees will be constantly reminded how to protect themselves from the infection, the symptoms to look out for, and what to do should they catch it.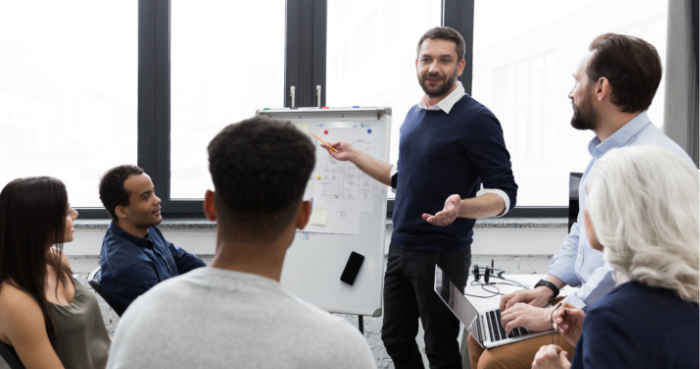 4. Create Training Sessions
From the start of the breakout, COVID-19 has made meetings and training more challenging between teams. However, creating training sessions is still vital to ensure that everybody in the organization does not lose sight of the importance of safety measures at home and in the office. You can schedule training online by batches or train them by sending resources that they can watch at their own time.
5. Make Mental Health a Priority
To ensure that every employee in the organization is safe and healthy, business leaders also need to consider their people's mental health. Stress and mental fatigue can profoundly affect their work. Still, by recognizing the pandemic's impact, you as the business leader can make your workforce's mental well-being a priority by creating support programs and other tips to help them improve their mental health.
6. Give Assurance
Performing health checks in the workplace is one thing, but reassuring your employees that you are making every effort to keep the workplace safe is vital. You can put the visitors' minds at ease by letting them know that the organization is doing everything like establishing a touch-less sign-in to help ensure the safety of everyone on the premises. You can also create a plan for in-person meetings, like ensuring there are enough meeting rooms to use and that the inflow of visitors is managed diligently.

Whether you have a system for managing visitors or touchless sign-in already in place, you need to reconstruct your workplace to accommodate social distancing and proper work hygiene. In addition, developing a return to work structure is highly important to instill confidence in your employees and encourage them to work again in the office.

Wondering what's the best way to manage visitors? Learn more about our visitor management solution. With a streamlined visitor appointment and registration, you can give visitors a seamless experience when they are in your workplace